Welcome to AutismEMS!

Autism Prepardness for EMS Professionals

Thanks to all who attended the 1st offering of the first annual Pediatric Care Symposium in Williamsport and at the 34th Annual Statewide EMS Conference. The response to the program was fantastic as I look forward to Johnstown and Harrisburg.

UPCOMING PRESENTATIONS:

Sep. 16, 2011 - 1st Annual Pediatric Care Symposium* (Johnstown, PA)
Dec. 10, 2011 (Tentative) - Harrisburg Area Community College (Keep watching!)
October, 2011 (Tentative) - Greater Scranton Area (TBA - Keep watching!)
*For more information or to register for Pennsylvania's First Annual Pediatric Care Symposium and/or the 34th Annual Pennsylvania State EMS Conference, visit the Pennsylvania Emergency Health Services Council's website at www.pehsc.org.

If you recently attended one of the Pediatric Care Symposiums, PLEASE take a few minutes to fill out our survey. Just click here! Thank you!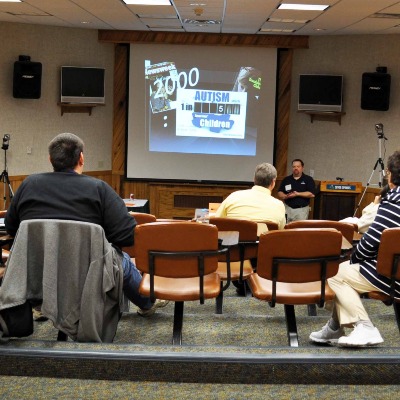 Presentations Offered

Now scheduling Autism Preparedness presentations for 2012. For more information about hosting a presentation in your area or at your service, please click here.

Click the above link for a message from Dean regarding the AutismEMS website.

Please help improve our website by taking our short survey. Your feedback is vital to ensuring our website meets the needs of our users. To begin, click the clipboard!



There are currently no new news headlines. Click Newswire to access news archives.

Click here to be added to our NOTIFICATION LIST or to contact AutismEMS!

Praise: God He Was, God He Is, God He Will Always Be. Amen.